"

6Pages is a fantastic source for quickly gaining a deep understanding of a topic. I use their briefs for driving conversations with industry players.

— Associate Investment Director, Cambridge Associates

"

6Pages write-ups are some of the most comprehensive and insightful I've come across – they lay out a path to the future that businesses need to pay attention to.

— Head of Deloitte Pixel

"

At 500 Startups, we've found 6Pages briefs to be super helpful in staying smart on a wide range of key issues and shaping discussions with founders and partners.

— Thomas Jeng, Director of Innovation & Partnerships, 500 Startups

"

6Pages is a fantastic source for quickly gaining a deep understanding of a topic. I use their briefs for driving conversations with industry players.

— Associate Investment Director, Cambridge Associates

"

6Pages write-ups are some of the most comprehensive and insightful I've come across – they lay out a path to the future that businesses need to pay attention to.

— Head of Deloitte Pixel
"
6Pages write-ups are some of the most comprehensive and insightful I've come across – they lay out a path to the future that businesses need to pay attention to.
— Head of Deloitte Pixel
"
At 500 Startups, we've found 6Pages briefs to be super helpful in staying smart on a wide range of key issues and shaping discussions with founders and partners.
— Thomas Jeng, Director of Innovation & Partnerships, 500 Startups
"
6Pages is a fantastic source for quickly gaining a deep understanding of a topic. I use their briefs for driving conversations with industry players.
— Associate Investment Director, Cambridge Associates
Read by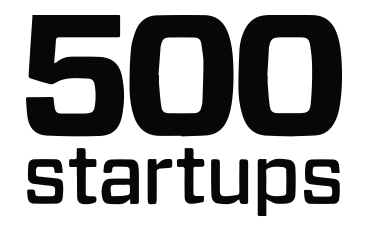 Used at top MBA programs including
Recent events – such as account restrictions stemming from the US Capitol riots, and WhatsApp's privacy update enabling data-sharing with Facebook (now delayed) – have resulted in tens of millions of users looking for alternatives to the leading messaging apps.
These events have caused the user bases of alternative encrypted-messaging apps Signal and Telegram to "explode." Telegram, for instance, added 125M+ users in Jan 2021 to reach 525M+ monthly active users.
For messaging apps, there is a clear tradeoff between features and privacy. When all the interactions on an app are end-to-end encrypted and very little metadata is captured, the data can't be the business model – so the options are mainly paid subscriptions or donations. As a result, many messaging apps are tying their business models to the parts of their service that are not end-to-end encrypted, from advertising to social commerce.
Encrypted-messaging apps are becoming major channels for propaganda and misinformation. Russia, for instance, lifted its ban on Telegram last year and the app is now used by state-sponsored outlets to disseminate propaganda. "Information operations" are being deployed in private groups and public channels all over the world.
Become an All-Access Member to read the full brief here
All-Access Members get unlimited access to the full 6Pages Repository of543 market shifts.
Become a Member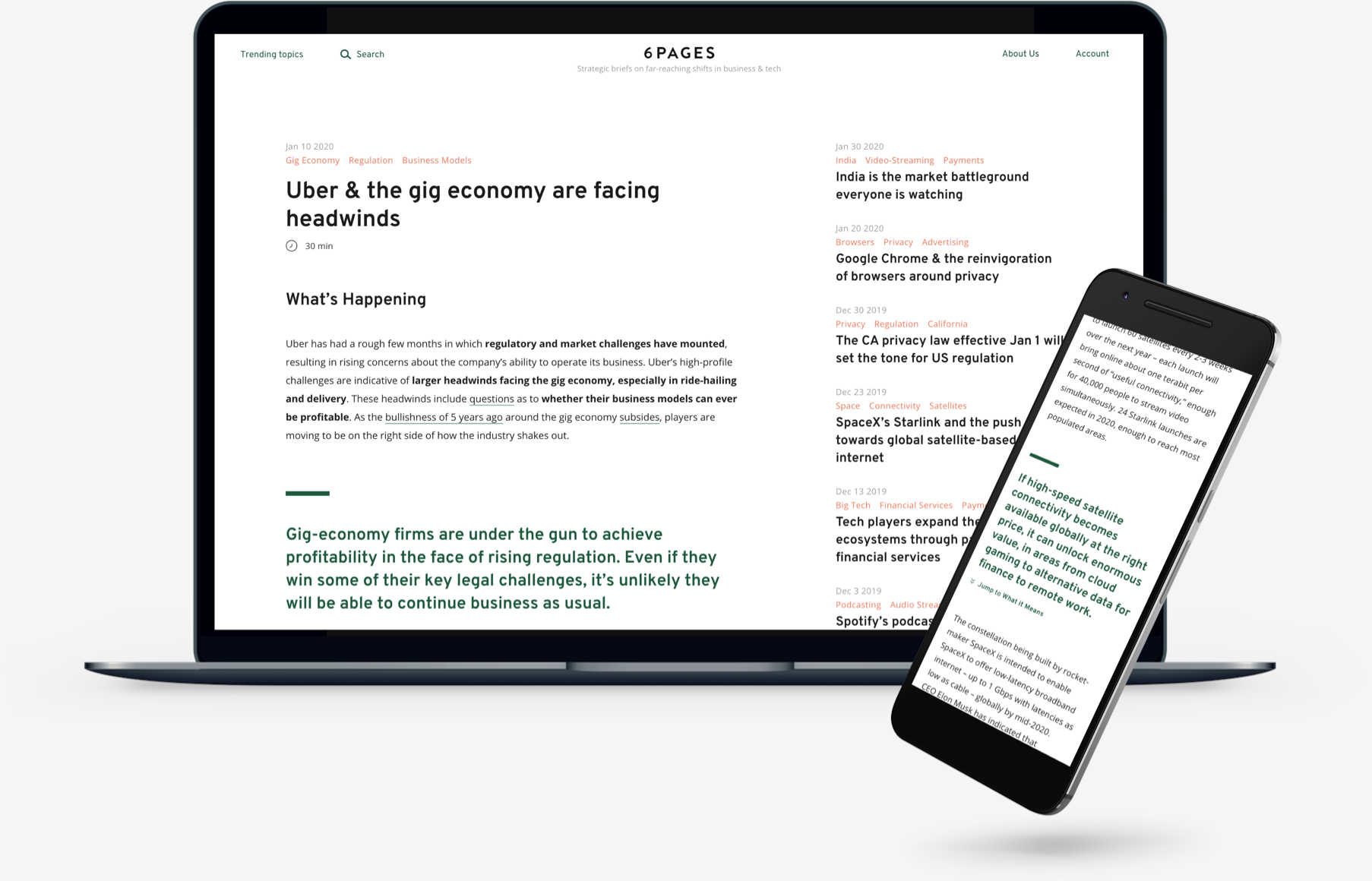 Get unlimited access to all our briefs.
Make better and faster decisions with context on far-reaching shifts.
Become a Member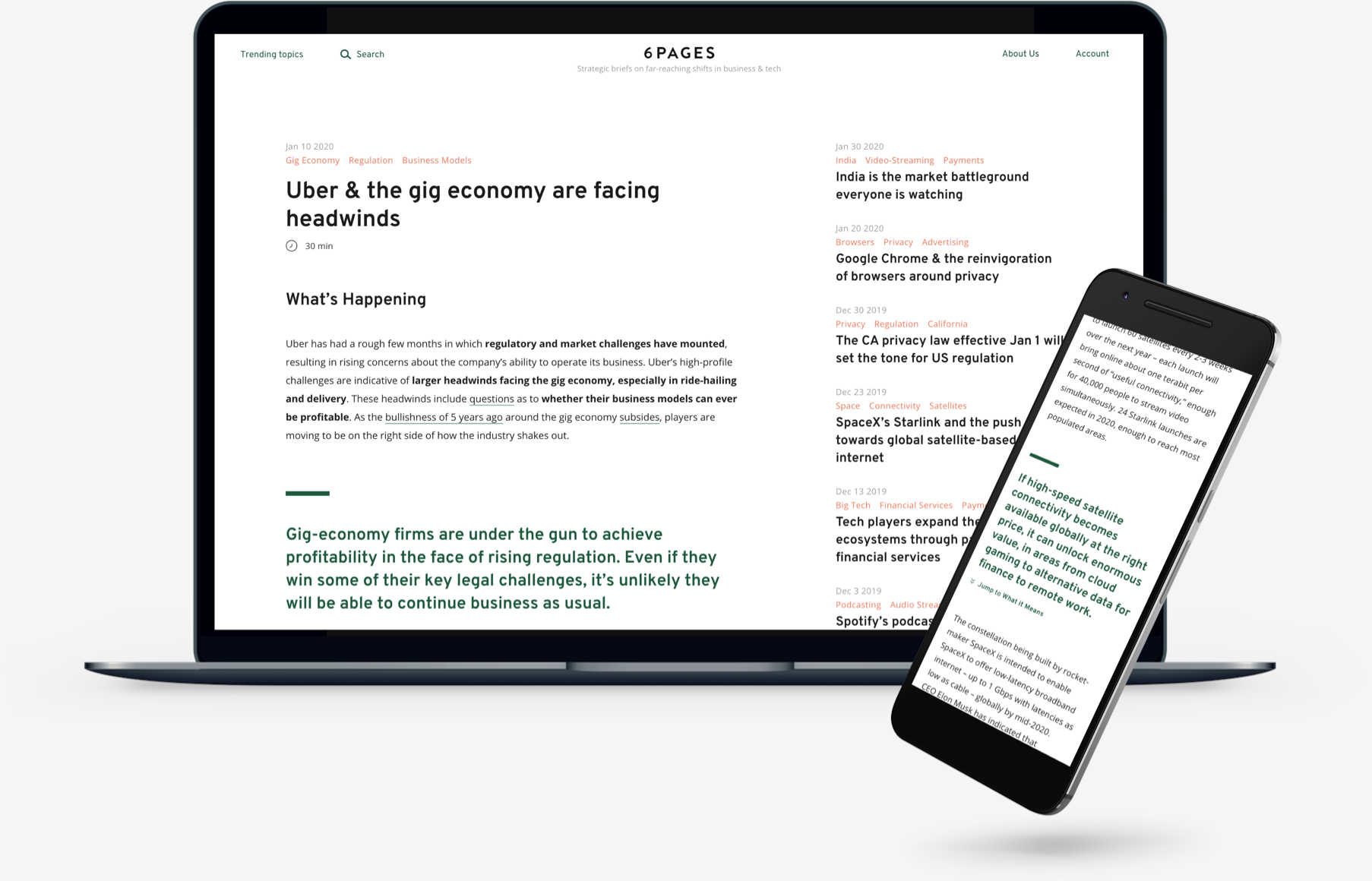 Get unlimited access to all our briefs.
Make better and faster decisions with context on what's changing now.
Become a Member